news
New treatments for Barrett's esophagus and early gastrointestinal cancer
HALO Ablation (from BAARX) is a new, highly effective procedure to treat Barrett's esophagus.
Click here to find out more.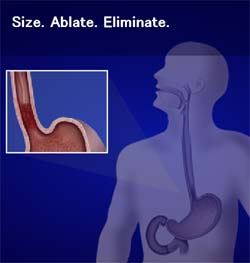 Endoscopic Mucosal Resection is an effective and safe procedure for removing early cancer of the esophagus, stomach, intestines, and rectum. Used initially in Japan; Dr. Ertan is routinely using this procedure in his selected cases with early gastrointestinal cancer. EMR is a major advance in gastroenterology treatment, because prior treatment methods required major surgeries which have high mortality and morbidity rates. Click here to find more.
The practice at Dr. Ertan focuses on several endoscopic treatments which may save you from surgery. Here's an article describing the several methods of this:
Non-Surgical Management of Barrett's Dysplasia
.