Endoscopic Mucosal Resection (EMR)
Traditionally, early gastrointestinal cancers have been treated by major surgery with high morbidity and morbidity rates. However, early detected gastrointestinal cancers can be removed by the endoscopic methods (using a flexible endoscope to probe from the mouth to the stomach or from the rectum to the intestines) safely and successfully from the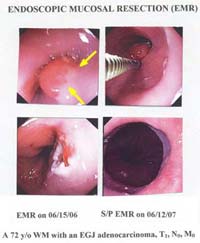 Click to view Powerpoint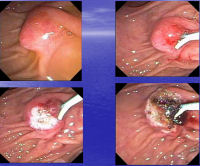 Click to view Powerpoint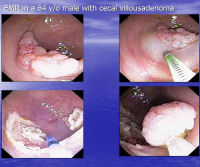 Click to view Powerpoint
esophagus, stomach, intestines and rectum. The endoscopic mucosal resection (EMR) was first performed by the Japanese investigators and now the EMR can be used in the US in selected cases with early gastrointestinal cancers.
Dr. Ertan is one of the leaders in performing endoscopic mucosal resection in those selected patients. In EMR, a flexible endoscope is used by Dr. Ertan to examine the lining for these cancers. Upon finding such an early malignant growth, Dr. Ertan can resect it and send the specimen to pathology examination. for further crucial management plans.
In EMR, the malignant tumor underlying tissue is injected with saline solution, such that it forms a larger bump. Then, this bump can be safely removed with an electrosurgical snare by the endoscopic channel. The EMR is relatively safe and effective in carefully selected patients with early esophageal cancer, stomach cancer, intestinal cancer, and rectal cancer. Therefore, these patients may be saved from major surgeries for their early gastrointestinal cancer treatments.
Pease review the
attached powerpoint presentation
delivered by Dr. Ertan about various EMRs in management of his own patients with early gastrointestinal cancers.
The links here describe more research studies on Endoscopic Mucosal Resection.
http://www.medscape.com/viewarticle/480244
http://www.nature.com/modpathol/journal/v17/n1/full/3800012a.html
http://pmj.bmj.com/cgi/content/full/83/980/367