Transportation and Accommodation Information
Dr. Ertan's patients can receive a 40% discount at a selective neighboring hotel at the Texas Medical Center-please contact us for details.
Plane travelers can take a shuttle bus to the Texas Medical Center and walk to Dr. Ertan's office. We are also located adjacent to a metro-train station and bus stops. Houston's hotel and motel accommodations are relatively inexpensive among the major urban centers. The Texas Medical Center area has better hotels ranging from Holiday Inns to Hilton and Marriott.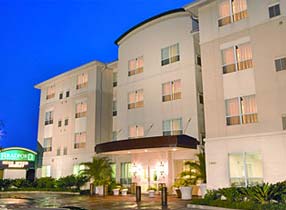 Effectively, you can use quick, convenient public transportation upon arriving into Houston. If you are driving, there is, of course, plenty of parking available.
Language
Dr. Ertan's office will have translation services available in nearly all languages.
I have questions regarding travel and the visit
Please note that Dr. Ertan cannot answer any medical questions you may have without first an examination, as this is the proper course of action. If you have questions regarding an appointment, please email our administrator -- appointment@atillaertan.com. Better yet, please call us at (713) 794-0001, USA, Central Time Zone.