IBD research
Dr. Atilla Ertan is a national and internationally known academician researcher in inflammatory bowel diseases (IBD), which includes Crohn's disease and chronic ulcerative colitis (CUC) as seen in his CV.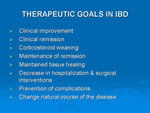 Therapeutic goals in IBD.
Click to Enlarge
Dr. Ertan and others' research with new biologic therapies are emerging to treat refractory cases with Crohn's disease. This is an exciting time for gastroenterologists who treat patients with Crohn's disease, as suboptimal traditional therapy is placed with biologic agents that target more specific mechanisms and are more effective.
Dr. Ertan is a principal investigator in several research protocols with different novel biologic agents which are not commercially available for the management of refractory IBD patients. His innovative clinical research protocols with novel pharmaceutical agents are available to all patients who desire to participate.
You will receive one of the best IBD experimental treatments. Dr. Ertan has received "Master of Gastroenterology" title from the American College of Gastroenterology and "Distinguished Clinician Award" from the American Gastroenterological Association. These awards are among the most respected in gastroenterology. He is Professor of Medicine and former Chief of Gastroenterology Sections at The Methodist Hospital/Baylor College of Medicine and the Tulane University Medical School.
Please send your email address to us to receive IBD, Crohns, and chronic ulcerative colitis newsletter. Please state in the email that you wish to receive the newsletter and include your city, state and country. newsIBD at atillaertan.com
For any questions, please call; this email address is solely for subscribing to the newsletter.