ERCP
Dr. Ertan is a recognized world leader in diagnostic and therapeutic endoscopic retrograde cholangiopancreatography (ERCP) modalities treatments with over 26 research full papers published on diagnostic and therapeutic ERCP in medical journals.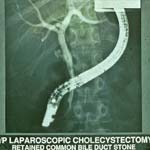 Postcholecystectomy bile duct stone. Click to Enlarge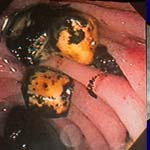 Extracted bile duct stones. Click to Enlarge
ERCP is an area that requires a skill practitioner, and we offer among the best.
Dr. Ertan has performed ERCP since 1973; treatments with biliary or pancreatic sphincterotomy, biliary or pancreatic stone removal, biliary or pancreatic duct (major or minor papilla) stenting and biliary or pancreatic balloon dilations dependent on your disease.
Dr. Ertan has received "Master of Gastroenterology" title from the American College of Gastroenterology and "Distinguished Clinician Award" from the American Gastroenterological Association. These awards are among the most respected in gastroenterology. He is Professor of Medicine since 1975 and former Chief of Gastroenterology Sections at The Methodist Hospital/Baylor College of Medicine and the Tulane University Medical School.
To sign up for ERCP newsletter, send your email address to newsERCP at atillaertan.com . Please state in the email that you wish to receive the newsletter and include your city, state and country. If you have any questions, please contact us; this email address is only for the newsletter.
Download information for Patients: