Barrett's Esophagus
Dr. Ertan treats hundreds of Barrett's esophagus patients, making his among the world's most experienced in Barrett's esophagus/dysplasia.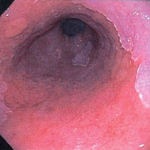 Long segment Barrett's.
Click to Enlarge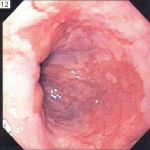 Short segment Barrett's.
Click to Enlarge
He has over sixteen research full papers published in Barrett's esophagus/dysplasia, and cancer. Our focus is to prevent Barrett's from becoming a cancerous stage through medicines and preventive methods in severe dysplasia or early cancer cases. If you have a Barrett's with severe dysplasia or early Barrett's cancer, you may be selected to be managed by photodynamic therapy ("smart laser").
Dr. Ertan has received "Master of Gastroenterology" title from the American College of Gastroenterology and "Distinguished Clinician Award" from the American Gastroenterological Association. These awards are among the most respected in gastroenterology. He is Clinical Professor of Gastroenterology at both Baylor College of Medicine and Weill Medical College of Cornell University
To join our newsletter about Barrett's treatment, please send an email to newsbarretts at atillaertan.com. Please state in the email that you wish to receive the newsletter and include your city, state and country. This email address is for subscribing to the newsletter, please telephone call us to make appointments if you have any evaluation questions.
Patient's Information about GERD and Barrett's
Dr Ertan offers the most current evaluation, an individualized short-term and long-term management plans for patients with gastroesophageal reflux disease (GERD). Patients with chronic GERD can develop inflammation and ulceration (esophagitis), or scarring (stricture) in the esophagus. A long history of GERD may lead to a precancerous condition called Barrett's esophagus, where the lining of the esophagus changes to resemble the lining of the intestine.
GERD patients' brochure Download